'Rhapsodies in Green' Concert Successfully Held by Green Link Digital Bank in Partnership with Singapore Chinese Orchestra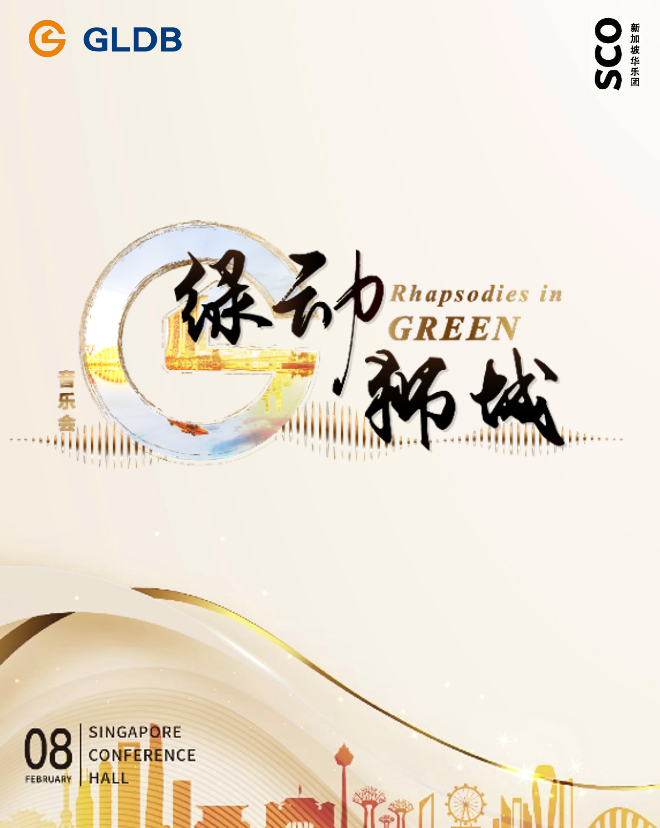 SINGAPORE, 9th February 2023 – Hosted by Green Link Digital Bank (GLDB) in partnership with Singapore Chinese Orchestra (SCO), the 'Rhapsodies in Green' concert was successfully held at the Singapore Conference Hall on 8th February 2023.
The performance by SCO has strong Chinese cultural elements, which offers the audience a rich Chinese music feast. It further represents the vision of GLDB to set a firm foothold in Singapore, and to develop strong partnerships in finance, culture, technology and green, low-carbon areas.
The 'Rhapsodies in Green' concert has two special souvenirs for all attending guests. The first souvenir is a concert exclusive NFT designed based on the Bored Ape Yacht Club (BAYC) #8302, which the Greenland Group has purchased in April 2022. This symbolises the launch of Greenland Group's digitalisation journey. The second souvenir is the Carbon Neutral Public Welfare Product. Through Guizhou Green Finance and Emission Exchange, a subsidiary of Greenland Group, GLDB has purchased carbon credits to ensure the concert was carbon neutral. As part of the social responsibility efforts, Greenland Group has always emphasised on ESG principles. The focus has been on public energy conservation and low-carbon transportation, which is a perfect match with Singapore's long-established core policy of sustainable development.
The concert has its own unique and symbolic significance. First of all, GLDB has commenced on 3rd June 2022; it is not only one of the first batch of digital wholesale banks approved by MAS, but also a major achievement of the Singapore-Shanghai Cooperation Council for the financial industry between China and Singapore. Secondly, 'Music Has No Boundaries' is a consensus of mankind. The performance of Chinese music strengthens the mutual understanding in the music domain between China and Singapore. Gifting each guest with a unique NFT avatar represents GLDB's active approach in embracing Web 3.0. The Carbon Neutral Public Welfare Product is a practical step taken by GLDB towards carbon emission reduction - an appeal to all to respond to the 'Paris Agreement' and to work towards the common aim of fighting global warming. The 'Rhapsodies in Green' concert fully represents the cooperative achievement in terms of music culture, digital technology enablement, green finance and other aspects between China and Singapore. The significance of the concert goes well beyond the performance.
GLDB is committed to empowering MSMEs and technology enterprises globally in their growth journeys, providing a full range of financial solutions with the advantages of convenience, safety, and intelligence for being an online digital bank embracing Web3.0. GLDB expects to grow with their clients, helping them to scale their supply chain and to be their trusted partner. The Bank will set its foothold in Singapore, extend its reach to the South-East Asian economies covered under the 'Belt and Road initiative' and finally towards supporting high growth firms around the globe. GLDB will focus on developing global digital economy, to become an influential digitalised fintech service platform and a top-notch digital bank in Asia.